Home Theater Solutions
Get the popcorn ready and settle into the best seat in the theater. Your own.
Movie Theater Quality, Familiar Comfort
Adding a home theater or multi-purpose media room has never been so easy. Our designers will suggest the most appropriate screen size, projector, audio equipment, acoustic treatments -- and even seating -- specific to your needs.
For us, the goal is quality and convenience. Whether the system needs to be integrated into an existing space or is part of a new construction project, we make the installation simple, quick, and painless. We marry pioneering technology with expert design to outfit your home with the definition of entertainment.
---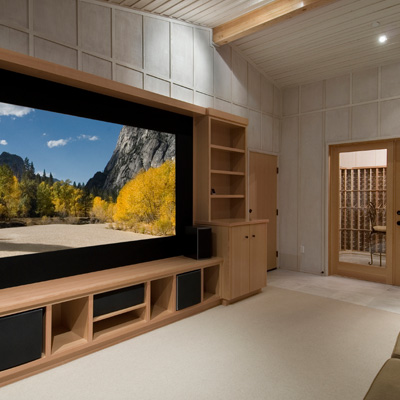 Home Theater Design
When designing your fully-integrated home theater, there are unique challenges to consider. We work with your architect and builder to assure that the final product is attainable, reliable, and exceptional. You're left with no messy wires, clean and efficient design, and unsurpassed quality of sound.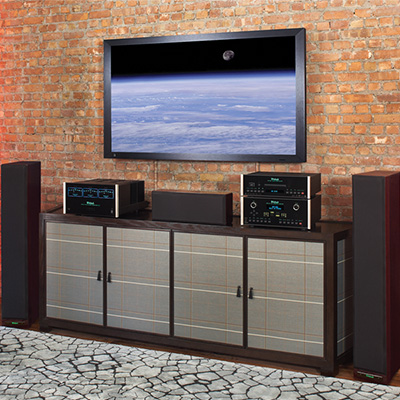 The Screen & Controller
This is all that remains once the system is installed. The speakers and hardware will be nearly invisible, and the control as simple as it is intuitive. The installation is multifaceted and complex but all you're left with is elegant simplicity.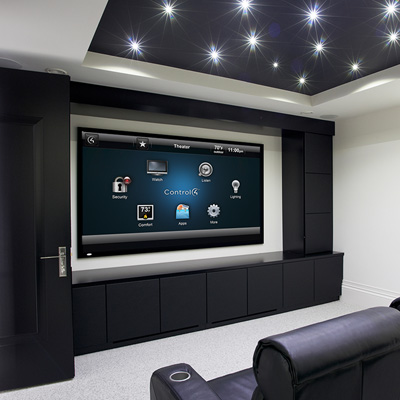 You, Above All
This is your system; designed for your home. Our custom apps and control systems are designed with ease-of-use in mind. Expert programmers assure that the system is simple enough for any member of the family to use and enjoy.